2020 Club Car Onward

SOLD!!!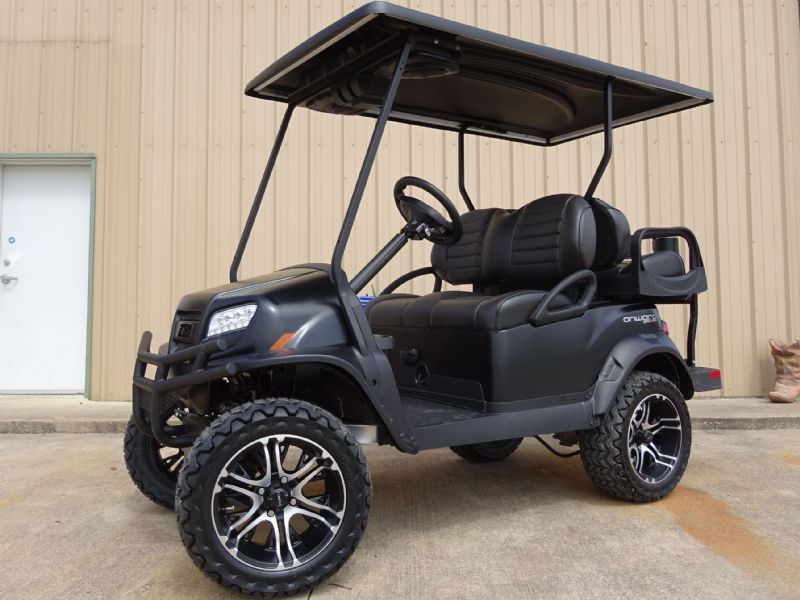 48 Volt Electric Equipped with E.R.I.C Charging System
Premium Matte Black Custom Paint
Factory Lifted
Factory LED Headlights, Tail Lights, Brake Lights, Turn Signals and Horn
Dual USB Ports
Premium Black Seats
Carbon Fiber Grill Inserts
Brushguard
Front & Rear Fender Flares
19.2 MPH Speed
Black Extended Canopy
Premium Overhead Bluetooth Sound System
Select Underseat Storage Bucket
Rear Black Swivel Cup Holders
Rear Flip Seat
Special Edition decal badging on side of rear body panels
Custom Matte Black Mercury 14" wheels on 23" Kraken tires
2 Year Factory Warranty!
WE'RE BACK IN BLACK.
One of our fastest selling Special Editions ever is back for a limited time: The Eclipse.
Our Metallic Tuxedo Black paint with a modern matte finish is simple, yet bold.
Leave the shine to others. Your ride is durable and classy. Ready for the outdoors or the runway.
Your favorite premium black seats make for a comfortable, automotive-grade ride.
To top it off, our Special Edition decal makes sure there's no mistake: this Onward is custom-built for the best.
Stock Number:
Eclipse
Sale Price: $11,695